Archive for the 'Games' Category
The world watched USA's Jermaine Jones and the referee collide in the USA versus Germany match on June 26th, 2014. Were either of them in the wrong?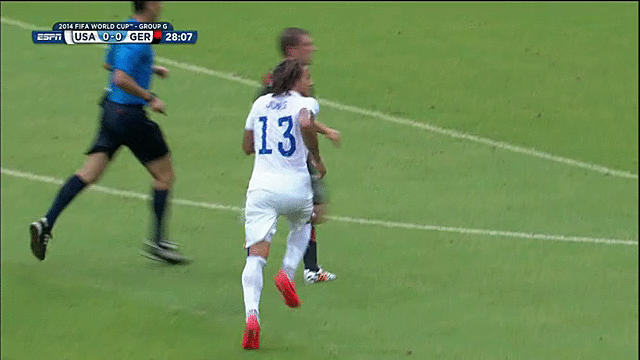 There has been some debate about this on Facebook among my international friends. Some say the referee was not running the proper diagonal, some say he should not have been in front of the attacking wave and I point out he really was not doing either wrong based on what was going on at that time.
We had the pleasure of seeing Ghana versus USA in Natal at Arena das Dumas. I say pleasure because we realized we missed the Ghana fans since meeting them in South Africa.
Notice the two he is holding up. That was not a peace sign.  It was the score they were predicitng to win by.
The stadium was much like Arena Pernambuco in size, layout and look.  We had a much easier time getting to parking and a decent walk to the stadium. While there was still no signage, we read up on the websites and mapped everything out. We chose the college to park for free and it was the best choice for many reasons.
https://www.flickr.com/photos/idonotes/14261459907/
It's been a few days since our last post.  A lot can happen in a couple of days.  we took our first drive to Natal to see the USA vs Ghana game.  We prepared a little better for this trip and did a lot of research before the trip to find out more about travel and parking for the game, as before we found nothing on the FIFA website, but fortunately found some very useful information on blogs and the Brasilian government website.  At Natal itself, pretty much zero in the way of signage to actually assist in the process, thank goodness for GPS and Waze.
Our seats for the USA game were much like the Ivory Coast v Japan game, right up there sitting next to St. Peter in the last but one row.  We don't have an issue with these seats as the view is fantastic, although the really loud cheering crowds tend to be much lower down closer to the pitch.  Talking of fans, arriving in Natal was like a big party with the Ghana fans.  These folks were singing and dancing big time and they never stopped, not before, not during and not after when their team had lost, true fans just having a great time.
Here are a couple of videos of the Ghana fans, and Chris's introduction video.
While we had a hard time parking and getting to Arena Pernambuco we are happy to start doing our intro videos again. This time it is for Ivory Coast versus Japan in Recife, Brazil on June 24, 2014.
The stadium itself was nice and we got lucky to sit under the overhang as it rained off an on all night throughout the game.  here is a 270 degree picture I took of Arena Pernambuco from the inside. Our seat view gave us an angle from a corner of the entire stadium.
It's a late kick off game and very humid and sticky with on and off heavy rain.
Japan have definitely bought along more supporters who are banging their drums, shaking their blown up empty shopping bags and generally making some good old supporter noises.
If there is one thing Brasil really needs to work on before the 2016 Olympics it's logistics. We'll write more about that in the coming days.
For those wondering these are the games we will be attending:
Saturday 14th June Match 6 – Côte d'Ivoire v Japan
Monday 16th June Match 14 – Ghana vs USA
Thursday 19th June Match 22 – Japan vs Greece
Friday 20th June Match 24 – Italy vs Costa Rica
Look for us on the Tele.